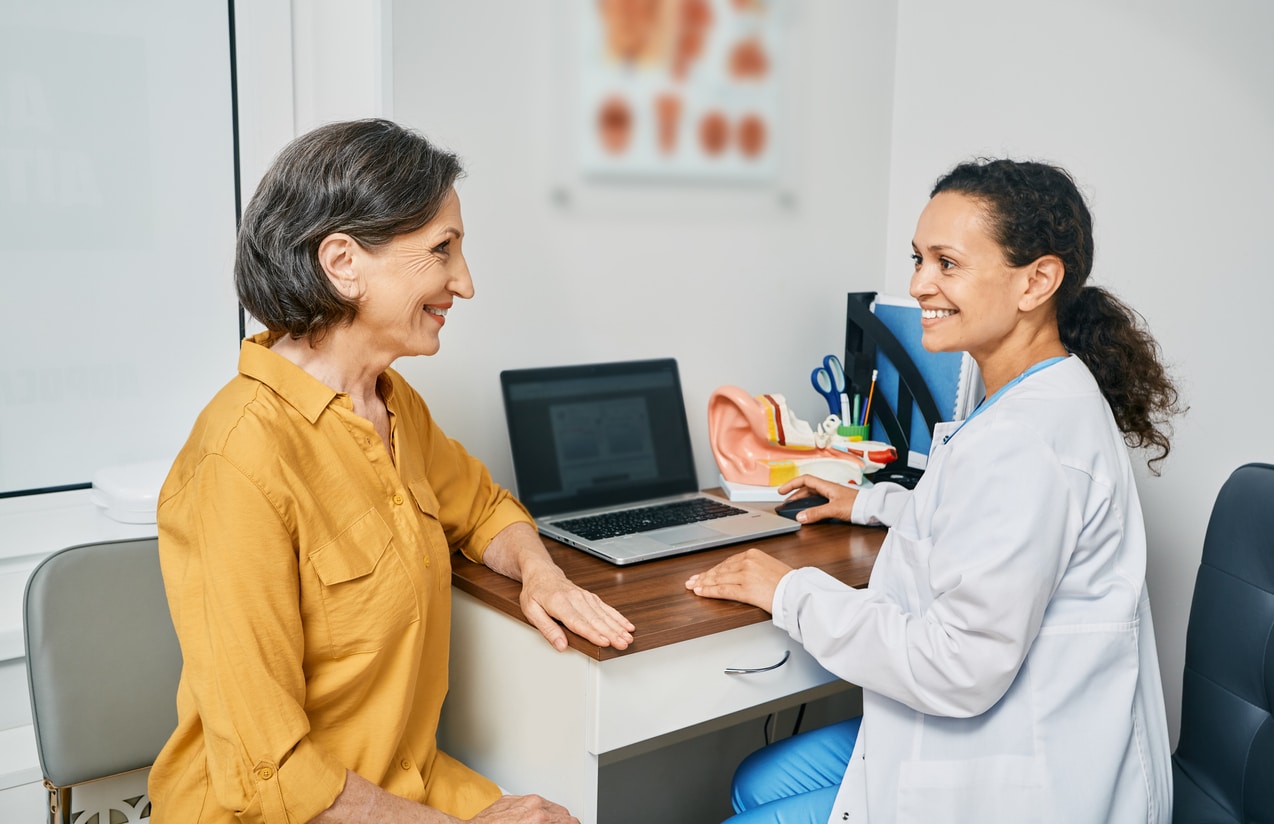 Why Do Audiologists Help With More Than Hearing Aids?
Today, people can buy many types of hearing aids and devices over the counter without ever seeing a doctor. While this may seem like a convenient option, you lose the ability to have your hearing device fitted to your ear, which may make the device less effective.
This October, celebrate National Audiology Awareness Month with Excel ENT by learning about the importance of audiologists and how they can help protect your hearing for years to come.
What Do Audiologists Do?
Audiology became a profession following World War II as our Veterans were returning home with hearing loss. As a result, the field of clinical audiology was formalized to aid many young, healthy soldiers who needed rehabilitation.
Today, the role of audiology continues to grow and expand. Audiologists specialize in all things related to hearing health, including diagnosing any hearing issues, offering treatment plans, managing and diagnosing balance disorders, and custom fitting hearing aids and hearing protection for newborns to senior adults.
As technology has progressed, we've been able to treat hearing loss better and better. However, there is still no replacement for natural, healthy hearing, but audiologists across the globe are working to create new and improved hearing models and forms of protection.
Why Are Audiologists Important for People With Hearing Loss?
Hearing loss is associated with a myriad of negative outcomes, such as:
Dementia
Social isolation
Balance issues
Cognitive decline
The best way to prevent these issues associated with hearing loss is to protect your ears from damage. The most effective way to protect your ears from harm is using properly fitting hearing protection. Custom hearing protection is more than just hearing aids; they're an investment in your future hearing.
Custom Hearing Protection
While it may seem simple, hearing protection doesn't function properly if not used correctly by the user. For example, most people do not properly insert foam ear plugs into their ear canal, making them almost useless. At Excel ENT, we are here to help you protect your ears and prevent hearing loss with custom hearing protection.
Custom hearing protection takes the guesswork out of proper fit, with the protection being molded individually to your ear. At EXCEL ENT, we offer two types of ear protection, active and passive.
Active
Our active hearing protection boasts a multitude of benefits, including:
Battery-powered
Rechargeable
Disposable Batteries
Apple and Android connectivity
While using active hearing protection, the device provides up to 30 dB amplification to hear what's happening around you up to 22 dB NRR (noise reduction rating).
Passive
Passive hearing protection comes in two types for your unique lifestyle. These two types include
Filtered: We recommend filtered hearing protection for hunting, music, and other special situations.
Solid: Solid hearing protection is excellent for swimming, sleeping, and general use.
Make an appointment to have ear mold impressions made and discuss the different options for hearing protection. Project yourself from hearing damage today!
Custom Hearing Protection: Testimonials
Come and see our audiologists and have custom testing, custom fitting, and personalized settings for your hearing devices. Many patients at Excel ENT are already receiving the benefits from custom hearing protection.
When asked about his custom hearing protection, a patient said, "I am confident that I am maximally protected while still being able to hear conversations." Another patient noted that her customer hearing protection is "so easy to insert and does an excellent job [protecting my hearing]." Discover the confidence and ease that comes along with custom hearing protection from Excel ENT!
Invest In Your Hearing Care at Excel ENT
Proudly serving the Birmingham area, our staff at Excel ENT is committed to your well-being. Receive custom testing, custom fitting, and unique settings for your hearing devices to protect your hearing and prevent any long-term effects from improper hearing protection. Call us at 205-988-6858 or schedule an appointment online today!