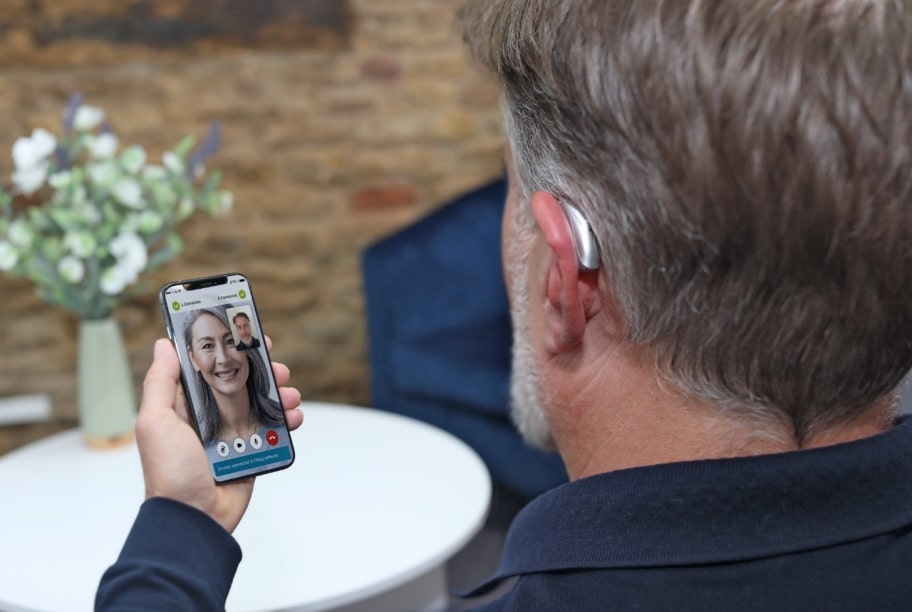 The Newest Hearing Device on the Market: Phonak Audéo™
New Hearing Device: Phonak Audeo™
In today's world, technology is constantly evolving. With new technologies, the multitude of options for hearing aids can feel overwhelming. It can be difficult to choose the device that will bring you the most comfort, security, and best sound quality. Thankfully, Phonak Audéo™ Lumity hearing aids combine clear, reliable hearing solutions with the latest technology features.
At ExcelENT our team welcomes growth and continual improvement of our patient's hearing by embracing the latest and greatest technology. The most recent breakthrough in hearing technology involves the Phonak Audéo™ Lumity hearing aid. Learn more about this innovative hearing device and how our team at ExcelENT can help you benefit from cutting-edge technology.
Phonak Audéo™ Hearing Devices
For over 70 years, Phonak has been distributing life-changing hearing solutions for people in over 100 countries. Phonak hearing aids amplify sounds for the user, emphasizing sounds from specific directions, eliminating background noise, and compressing frequencies. Phonak boasts multiple kinds of hearing devices, each tailored to different kinds of hearing loss for optimal results. Discover Phonak's latest device that delivers an unmatched hearing experience.
Phonak Audéo™ Lumity Hearing Aids: Benefits
Phonak's already state of the art sound quality has been improved once again. The hearing aid's all new Smart Speech feature allows for even better speech understanding and clarity in a variety of difficult listening situations. The Phonak Audéo™ Lumity hearing aids are available in a range of 8 colors, so you're bound to find a shade that suits you. Beyond the range of colors, Phonak Audéo™ Lumity hearing aids host a variety of benefits.
Crisp Sound
Hear the sounds of the world, uninterrupted, in real-time. Phonak Audéo™ Lumity hearing aids have been scientifically engineered to deliver crisp, rich sounds.
Innovative Technology
Featuring the ActiveVent Receiver, the Phonak Audéo™ Lumity hearing aids automatically filter noise in hard-to-hear environments, or when streaming media, for optimized hearing and a naturalness to your own voice when speaking. Never struggle to hear in a noisy environment and enjoy exceptional sound when watching a movie with automatic, state-of-the-art sound technology.
Speech Understanding
It can be challenging to hear someone from far away, or if they speak softly. Thankfully, the Phonak Audéo™ Lumity hearing aids feature speech-enhancing technology so you can interact with friends, family, and others, without worrying about not hearing them.
Personalized Noise Canceling
If noise is coming from all sides of a room, the sound can feel overwhelming. With personalized noise canceling, Phonak Audéo™ Lumity hearing aid users can personalize noise-canceling settings at the drop of a hat.
Waterproof
Phonak Audéo™ Lumity hearing aids are waterproof and sweatproof in select models. Hearing devices that are fully waterproof not only allow you to participate in water activities, but also protect your device if you are prone to excessive sweating or live in a particularly rainy climate. The device can be submerged in up to 50cm, or 1.64 feet of water while delivering still crisp sound.
Amongst these features, Phonak Audéo™ Lumity hearing aids boast health tracking, connection to smartphones and TVs, and a rechargeable battery.
Connect with Phonak Audéo™
With the myPhonak app, users can control their hearing aids right from their mobile devices. There are a variety of features in the app, including remote control, support from your hearing care professional, capturing important health data, and providing status updates on your devices. Experience cutting-edge technology for full customization of your hearing device with the myPhonack app.
Phonak Audéo™ at ExcelENT
Take advantage of technological advances at ExcelENT. Discover crisper sound, customizable features, and stress-free hearing with Phonak Audéo™ Lumity hearing aids. Dr. Davis and his team can answer any questions you may have about fittings, models, and the next steps. Begin your journey to hearing the world uninterrupted today!
Learn More About Hearing Devices & Fittings at ExcelENT
Experience the benefits of technology like never before at ExcelENT. Technologically advanced hearing aids are a great option to consider, and Dr. Davis will work with you to determine what model is best for you. Schedule an appointment online, or call to discuss coming in at a time that's best for you at 205-988-6858.