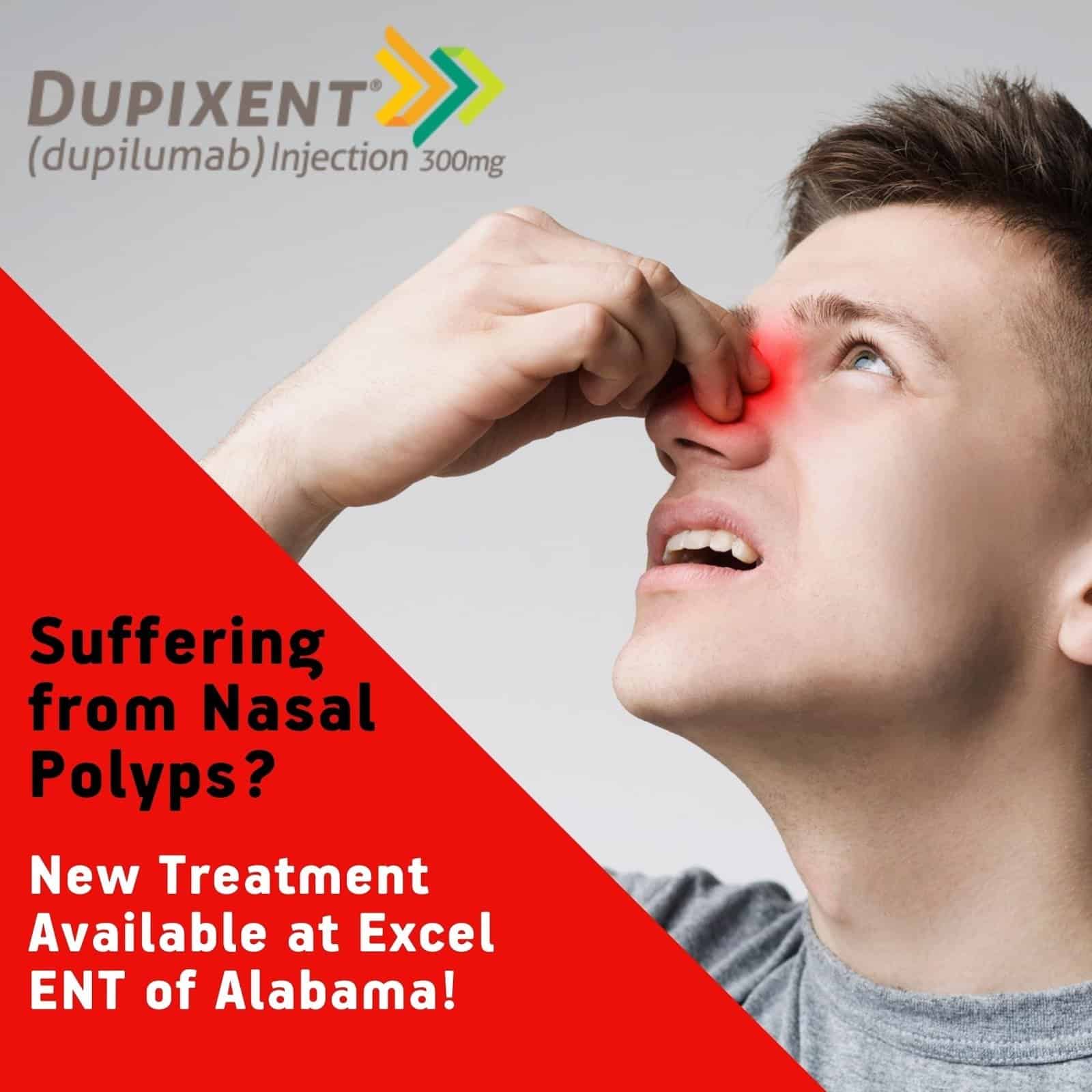 Nasal Polyps & Dupixent
Excel ENT of Alabama is very excited to introduce a new biologic option to treat and manage sinus conditions for patients that could have been candidates for sinus surgery in the past.
The sinus specialists of Excel ENT of Alabama are very passionate about how biologics can be a game-changer for managing sinus disease and are excited to offer Dupixent as an option for treatment in patients with severe/ refractory sinus polyps. 
Dupixent is a treatment used with other medicines to treat chronic rhinosinusitis with nasal polyposis in adults.
What Biologic medication Dupixent does
:
Reduce the size of nasal polyps

Improve congestion

Improve loss of smell

Reduce the need for surgery
What Are Nasal Polyps?
Polyps are painless, benign growths inside the nasal passages. If the polyps are small, a person may not know that they even have them but, polyps can grow in clusters that block the nasal passages and inhibit sinus fluid drainage and normal airflow.
Polyps also can cause secondary issues, such as sleep apnea, asthma, and sinus infections. 
Some common symptoms of nasal polyps are:
Congestion

Breathing problems

Recurring infections

Reductions in the senses of smell and taste

Sinus pressure

Pain in upper teeth or face

Nosebleeds
What the maker of the Biologic Medication Dupixent says:
George D. Yancopoulos, president and chief scientific officer at drug maker Regeneron, said in a statement, "Dupixent is the only approved therapy that has been shown to shrink nasal polyp size and also improve the signs and symptoms of the associated chronic rhinosinusitis. In fact, approximately three-quarters of patients treated with Dupixent no longer required either corticosteroids or surgery, the current standards of care."
Dupixent F.A.Qs
How does Dupixent work? By blocking two critical sources of type 2 inflammation, Dupixent shrinks nasal polyps and reduces the need for surgery.
What types of results were seen in clinical studies with Dupixent? There were two clinical trials of 724 adults with uncontrolled chronic rhinosinusitis with nasal polyposis. In both studies, Dupixent helped patients breathe better by relieving nasal congestion and reducing nasal polyps size compared to the placebo group.
How is Dupixent taken? Via an injection under the skin at different injection sites. 
How do I know if Dupixent is suitable for me? Call for an appointment today with the sinus specialist professionals at Excell ENT of Alabama to determine if Dupixent is for you.
Learn More About Treatment Options for Nasal Polyps at Excel ENT of Alabama Located in Birmingham!
Are you suffering from nasal polyps? Contact the team at Excel ENT of Alabama today to schedule an appointment for a medical evaluation to receive the proper diagnosis and treatment plan.