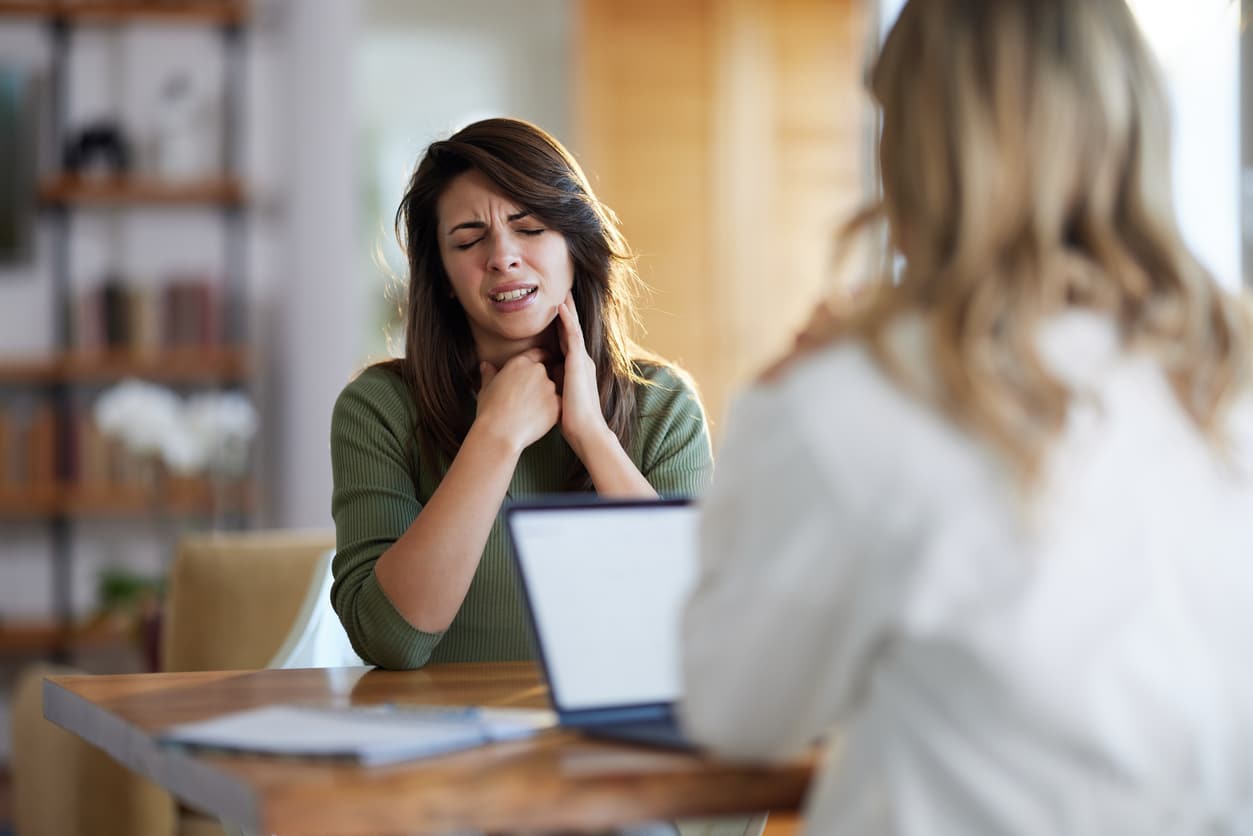 Why Do I Have So Much Sinus Pressure & Post-Nasal Drainage?
Do You Have Sinus Pressure & Post-Nasal Drainage?
We all know the dreaded feeling. When you sense unwanted mucus building up in your throat, causing odd tickling sensations, frequent swallowing, and coughing. These symptoms are tell-tale signs of post-nasal drip, which can quickly become frustrating and bothersome. Often, people that experience post-nasal drip have a hard time putting their finger on the cause of this pesky ailment.
Luckily, the team at ExcelENT is experienced in treating cases of post-nasal drip, along with conditions that cause it, such as sinusitis. If you're wondering why you can't get rid of the thick mucus in the back of your throat, search no more! We're breaking down all you need to know about post-nasal drip and how to find relief.
What Is a Post-Nasal Drip?
In your nose and sinuses, mucus filters out harmful particles that you breathe, like dust or allergens. In addition to being the first line of defense, it also keeps tissues moist and protects the linings of important passageways. While mucus production is normal, you shouldn't be noticing it. But sometimes, an abnormal production of mucus can end up in your throat. If you're experiencing a build-up of mucus in the back of your throat, you may have post-nasal drip.
Beyond mucus build-up, there are a few more symptoms of this cumbersome ailment. These symptoms include:
Frequent swallowing
Gurgling or hoarseness
Bad breath
Cough
Sore throat
Unpleasant sensations in your throat, like tickling or like something is stuck
What Causes Post-Nasal Drip?
While every case of post-nasal drainage is a little different, there are some frequent causes. The common culprits we see at ExcelENT include:
Sinus infections (Sinusitis)
Cold
Flu
Allergies
Certain medications
Environmental irritants, such as smoke or chemicals
Gastroesophageal reflux disease (GERD)
Perhaps the most common cause of post-nasal drip is a sinus infection. During a sinus infection, the sinus cavities become swollen. Since the mucus can't drain properly, mucus and pressure build-up. With nowhere to go, the mucus becomes stagnant, and bacteria quickly infects the sinuses and surrounding areas. The disruption of the mucus drainage can sometimes cause post-nasal drip or be an uninvited companion of it.
What Are Treatment Options for Post-Nasal Drip & Sinusitis?
If your symptoms of post-nasal drip or sinusitis have lasted longer than 10 days, or you're running a fever, we recommend you seek medical care. It can be tempting to continue taking over-the-counter medication or just hope it goes away, but you can significantly improve your quality of life with treatment. If your sinus symptoms have lasted longer than 3 months, you may have chronic sinusitis and should speak with a sinus specialist sooner rather than later.
Various treatment options include prescribed medications, irrigation, and nasal sprays. Every case is different, and you may be recommended other remedies, like surgery, if you're not responding to other treatments.
Find the Relief You Deserve
At ExcelENT, we're the nose and throat experts you need. With years of experience, we treat cases of post-nasal drip and chronic sinusitis frequently and can help you find the relief you deserve. We offer innovative treatments to relieve sinus pressure, including balloon sinuplasty and other sinus surgeries. Or, if you're suffering from post-nasal drainage alone, our team of experts can help you find a remedy with our in-depth evaluations, diagnostics, and treatment options. Don't wait to get back to 100%! Contact the ExcelENT team today!
ExcelENT: Your Trusted Sinus & Throat Experts in Birmingham, AL
Proudly serving the Birmingham metro area, our team can evaluate, diagnose, and treat a variety of ear, nose, and throat ailments. Call us at 205-988-6858 or contact us online to live a happier, healthier life!