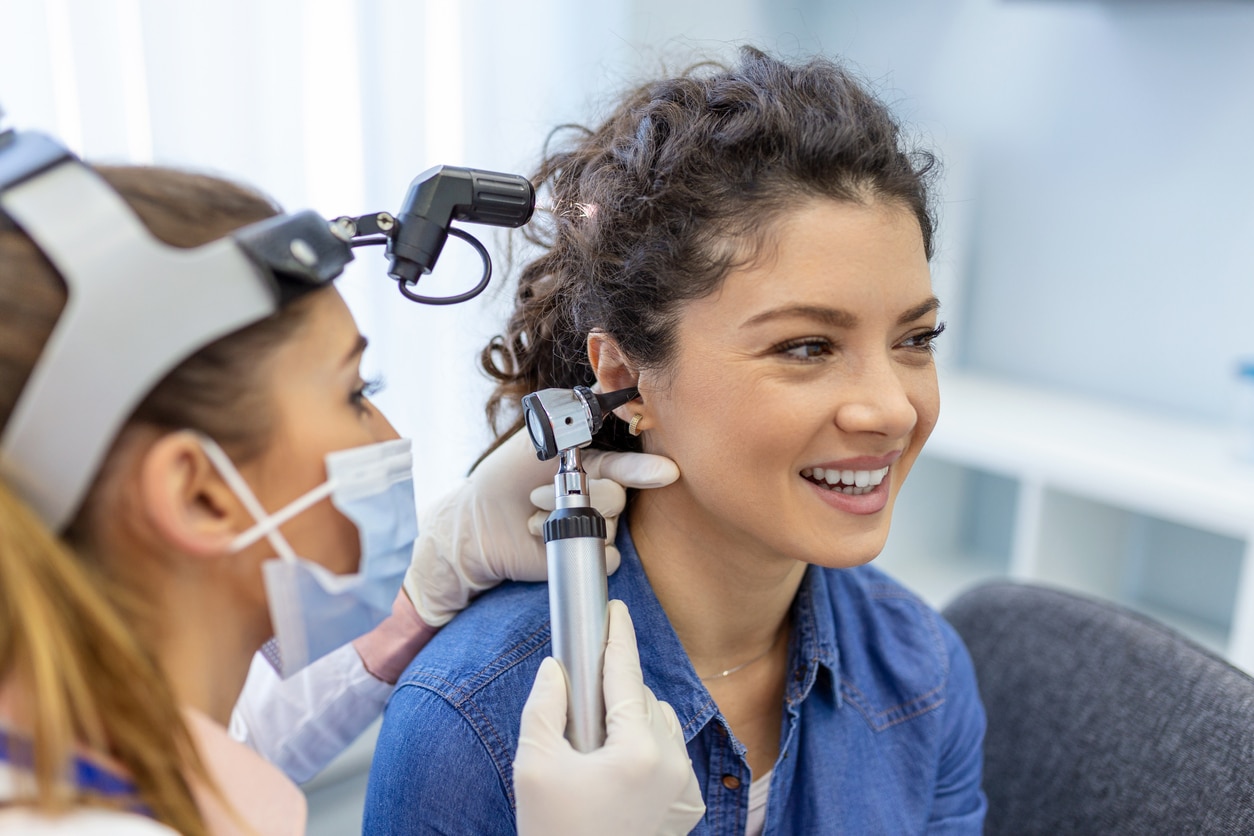 Want To Know All About OTC Hearing Aids?
After the implementation of bipartisan legislation passed by Congress in October of 2022, OTC (over-the-counter) hearing aids became available in retail stores and drugstores across America.

As people began noticing this new hearing device in their local market, questions quickly arose about OTC hearing aids and how well they work compared to medically prescribed hearing devices. 
The team of audiologists at Excel ENT is here to answer your frequently asked questions so you can be better informed about your hearing options. Understand what OTC hearing aids are, why you may or may not be a good candidate and more. Keep on reading to learn all about the latest buzz in audiology. 
What Are OTC Hearing Aids?
The FDA developed OTC hearing aids for adults with perceived mild to moderate hearing loss. You don't have to see an audiologist for any testing or need a prescription to get an OTC hearing aid. OTC hearing aids aren't very customizable compared to prescription hearing aids, but some options have a self-fit feature to try to make your fit as personalized as possible. 
OTC hearing aids are less expensive than prescription hearing aids, but the investment of a personalized hearing solution is well worth the extra money. Additionally, you may end up spending money after purchasing your OTC hearing aid on other models if your initial purchase didn't fit quite right. At Excel ENT, we can walk you through a full breakdown of the costs associated with a prescription hearing aid, and provide support as you navigate the financial details. 
How Do OTC Hearing Aids Work? 
While OTC hearing aids function similarly to prescription hearing aids, they are somewhat limited in reducing background noise along with other features. The most notable difference between OTC hearing aids and prescription hearing aids is OTC's lack of customization and computer processing. Your audiologist can program prescription hearing aids to fit your individual needs. Additionally, it's difficult to understand your own hearing needs without proper testing, and without an expert's opinion, you may choose a hearing aid that won't improve your hearing.
Overtime, your hearing can change along with your medical needs, and without an audiologist to help you program your hearing aid along the way—you may continue to face hearing challenges. At Excel ENT, we understand it takes time to program your hearing aid just right, and strive to provide you with an effective solution each time you visit our office. 
Does Insurance Cover My OTC Hearing Aids?
Insurance does not currently cover any type of hearing aid investment. Some Medicaid plans and other third parties may cover the cost of your hearing aids, but coverage varies from state to state. We recommend researching more information about your insurance plan or speaking with your employer about current insurance coverages. 
Though most insurance companies don't cover the overall cost of a hearing aid, they do cover the costs of your hearing test. So, if you come to an audiologist, like Excel ENT, you can file a claim with your insurance company for coverage. During our evaluation, your provider will ask you to listen to multiple sounds at varying frequencies and perform other tests. You'll then receive a hearing recommendation based solely on your needs. 
Please note if you decide to purchase an aid, your Exel ENT includes your hearing test in the final cost of your hearing aid solution. 
Can Children Use OTC Hearing Aids?
The FDA doesn't approve OTC hearing aids for children. Children have specific needs for hearing aids that a certified audiologist must meet that OTC hearing aids cannot. As children grow, their ear size and hearing needs change drastically. Additionally, children require frequent check-ins to ensure developmental and auditory milestones are met. 
At Excel ENT, we can help your child if they struggle with their hearing. We understand that finding a hearing solution for your child is delicate and requires a compassionate, detail-oriented approach. We can fit your child with a customizable hearing aid, provide solutions for chronic ear infections, and much more at Excel ENT.
Do You Recommend OTC Hearing Aids?
At Excel ENT, we don't recommend OTC hearing aids. However, if you're experiencing very mild hearing loss and may not need hearing aids yet, OTC hearing aids could be helpful. We always suggest seeing an audiologist for a full hearing test and aid recommendation rather than using over-the-counter aids. OTC, compared to prescription hearing aids, can be the difference between muffled sounds and being able to hear something clearly for the first time in a long time. 
Improve Your Quality of Life with Prescription Hearing Aids
At Excel ENT, we understand it can be frustrating if you're suffering from hearing challenges. Daily life can quickly become a challenge when we can't hear our loved ones, the server at the restaurant, or the TV. With our customized hearing solutions and prescription hearing aids, we can help you improve your quality of life. You'll find a personalized hearing aid to meet your needs and a support team with you every step of the way. Call us at (205) 651-8764 or online to schedule an appointment today!
Your Trusted Audiologists in Birmingham, AL: Excel ENT
Proudly serving Birmingham, AL, and surrounding communities, we're dedicated to your overall satisfaction. With years of experience, our audiologists are ready and equipped to improve your hearing loss, Tinnitus, Eustachian tube dysfunction, ear infection (otitis media), and other ear ailments. Don't hesitate to call us today!
Contact Us
"*" indicates required fields